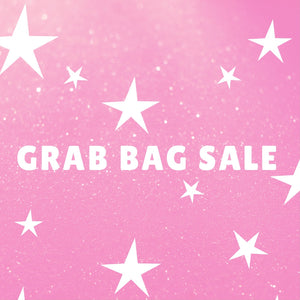 hi there, PLEASE READ: 
GRAB BAGS for YOU! 
Highly discounted items from past seasons + holidays.  This drop contains  mostly FALL, CHRISTMAS, HALLOWEEN, VALENTINES, SPRING, SUMMER and may contain other retired  items, but ont limited to.  Kids  may include tees, skirts, and leggings! Pullovers are also listed in the drop box menu should this be your preference.  
SALE!  most items marked down by 70% - SIZE UP for the next holiday or season.  EACH grab bag contains one single item. If you wish to purchase more than one in that size, just update your quantity accordingly. 
HOW IT WORKS: 
choose your size from the drop down menu, and add to cart.  Choose from women's, kids or sunnies (children sunglasses) - you can add as many quantities as you choose.  We will not send duplicates in the SAME SIZE (unless you request so),  if we cannot fulfill your order, we will credit the item.  You can also leave any requests under the NOTES section during checkout.  FOR EXAMPLE: if you desire a boy a gender neutral tee, you can leave this under the notes.  Please understand we will do our best to accommodate your requests, however there are no guarantees.  We CANNOT combine orders for shipping. 

We do not accept returns/exchanges if your grab bag items do not suit you, but you can always use for gifts or donations.  One item in each bag, however you can purchase as many as you desire, just use the number drop down menu for quantity.
IF YOU ORDER MORE THAN 3 quantities in the same size/product you may receive a duplicate item. Please take this into consideration when ordering.  Thank you.
Occasionally, a grab bag item may contain a print error/imperfect item. 
PLEASE UNDERSTAND there are no exchanges. Thank you!